Sacral Nerve Stimulation (SNS)
Dr. Jothi Murugesan MBBS, MS, FRACS
Bladder and bowel control problems affect millions of Australians. Bowel management, specifically, is still an underdeveloped area of care across Australia. We are currently working hard to ensure that everyone has easy access to the right level of information and support, to ensure they can be assessed and prescribed the correct treatment for their individual needs. Sacral Nerve Stimulation (SNS) is a Medicare rebated therapy and has been helping people with bladder and bowel problems for well over 20 years, with 84% patient satisfaction. Where successful, the treatment can make significant and sustained improvements in their quality of life.
For patients with faecal incontinence, sacral nerve stimulation (SNS) has been demonstrated to be the gold standard. It may also successfully treat bowel dysfunction, chronic urinary retention, overactive bladder, voiding dysfunction and some cases of chronic pain syndromes.

Principle
The brain controls various muscles of our body and their movements by means of electrical impulses, which are carried by nerves. These nerves have major trunks with smaller roots running off them. The muscles in the pelvic area, such as the pelvic floor, urethral sphincter muscles, bladder and anal sphincter muscles are controlled by the brain through the nerves that run from the sacral area. Our sensations, such as fullness in the bladder or rectum, are also relayed to the brain via these sacral nerve roots. Communication between the brain, bladder and bowel is critical. Hence, conventional treatments may not produce the results, as they do not target the miscommunication between brain, bowel and bladder. SNS helps rectify this communication problem by delivering mild and gentle electrical impulses to sacral nerves. In addition to the local stimulation, this neuromodulation also influences the higher centres of bowel and bladder control in the brain. In effect, sacral nerve stimulation helps to correct inappropriate, undesirable or even erroneous messages directed along these nerve pathways.
Unlike other bladder and bowel control therapies, Sacral nerve stimulation by means of InterStim is a modality that allows patients to have a trial first. It is an evaluation and not a long-term commitment. If the initial evaluation is successful, then a permanent lead is placed.

Here's how it works
The procedure is performed in two stages as a day case under local anaesthesia and sedation.
Initial Evaluation Stage
To evaluate SNM as a treatment, the patient is placed in a prone position on an operating table and the area of the sacrum prepped and draped. Using fluoroscopic guidance, a needle is first used to locate the site of sacral nerve root S3 or S4, which control the bladder and bowel. Once located precisely, a thin temporary wire is inserted close to the sacral nerve roots S3 or S4 (response to S3 stimulation – bellows levator pull and great toe flexion and S4 stimulation – bellows levator pull) as in Figure 1.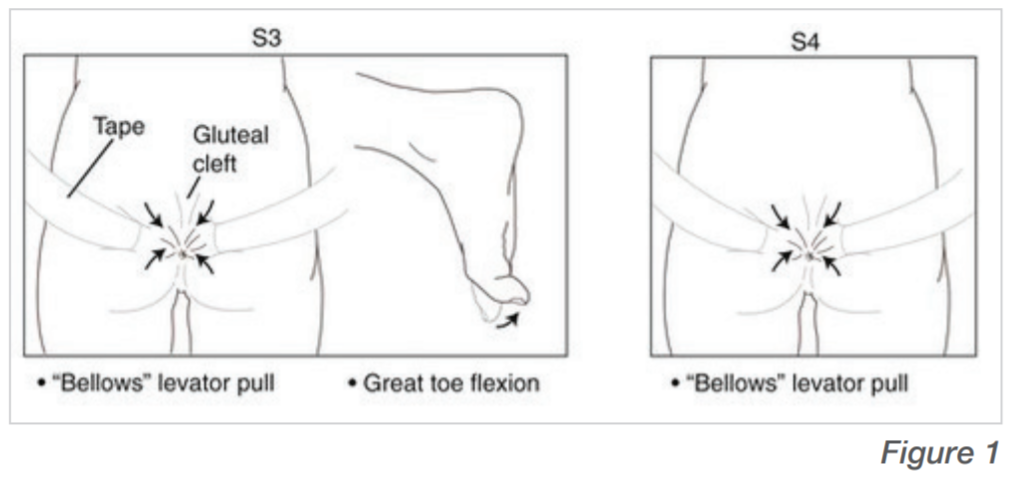 This wire is then connected to a small external device which delivers stimulation to the nerves. The external device, houses a battery which is worn on a belt for the duration of the evaluation. After the temporary wire is inserted, the patient is discharged home and continues to record toilet habits during the test period of two weeks in a new diary. After two weeks of home evaluation, the patient is reviewed to explain and discuss the results. Measures to assess whether the patient would benefit from the SNS include recording the number of incontinence episodes before and after the test, patient satisfaction score and quality of life assessments.
Implant Stage
Following a positive evaluation, the patient is offered an implanted device, known as a Neurostimulator (acts akin to a pacemaker) as in Figure 2, which is about the same size as a 50 cent coin and is typically placed just beneath the skin in the upper buttock. A thin lead is similarly implanted in the lower back and connected to the device as in Figure 3 and the battery usually lasts approximately 5 years. If the evaluation is unsuccessful, the temporary wire can be removed in clinic and we can contemplate either repeating the test or discussing other viable options with the patient.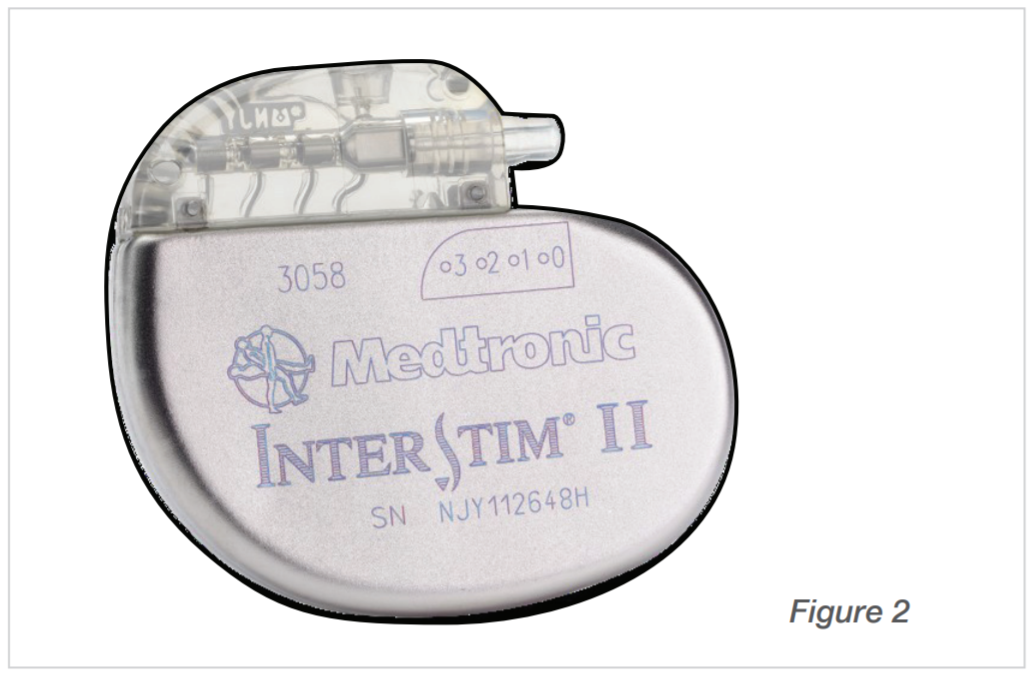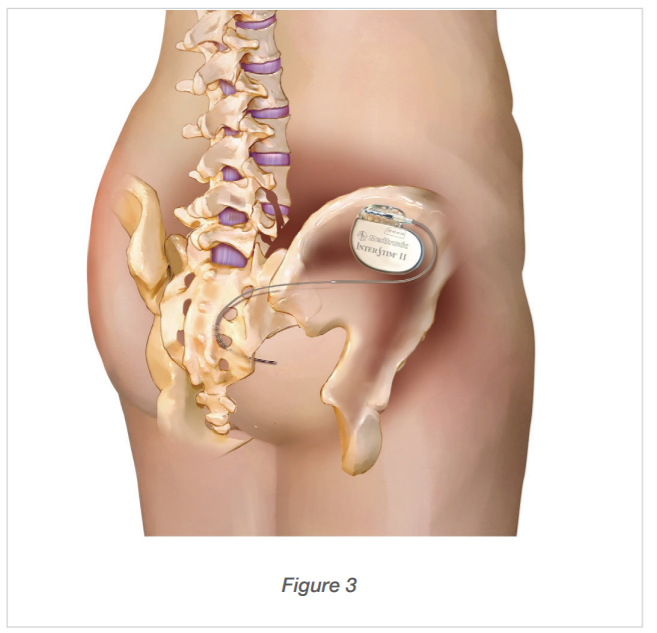 Key take home points
Effective treatment for:
Faecal incontinence
Urinary incontinence
Interstitial Cystitis
Overactive bladder
Urinary retention
Urinary urgency-frequency
Pelvic pain
Key advantages:
Trial (test) period
Effective – improves quality of life
Adjustable
Reversible
Rechargeable