Myths, truths and common questions in Total Joint Replacement
By Assoc. Prof. John Ireland Orthopaedic Surgeon
It continues to surprise me some of the misinformation patients have acquired, and in some cases the lack of accurate, or up to date information.
Over the last 10 years in particular, better drugs e.g. Tranexamic acid, less invasive surgery, and regional anaesthesia have improved the management of pain and improved earlier mobilisation and return to activities, in all Total joint Replacement patients.
My comments below relate to hip and knee replacement but some to the shoulder.

Myths
Total joint replacements only last 10 years. Below is National registry (AOANJRR) for total Hip, Total Knee and Shoulder replacement.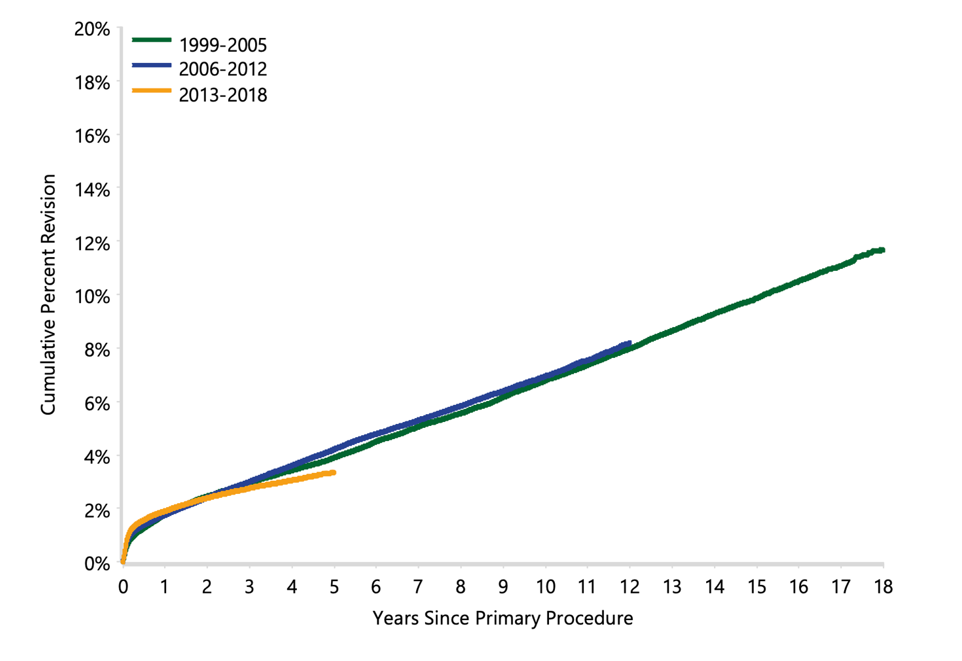 The more recent evolutions with better bearing surfaces are trending towards a lower revision rate.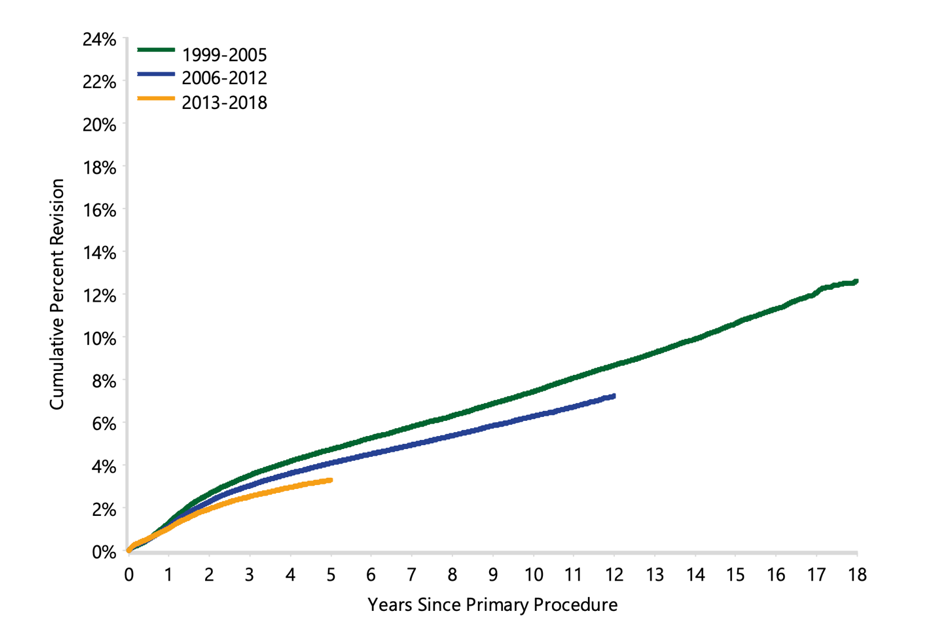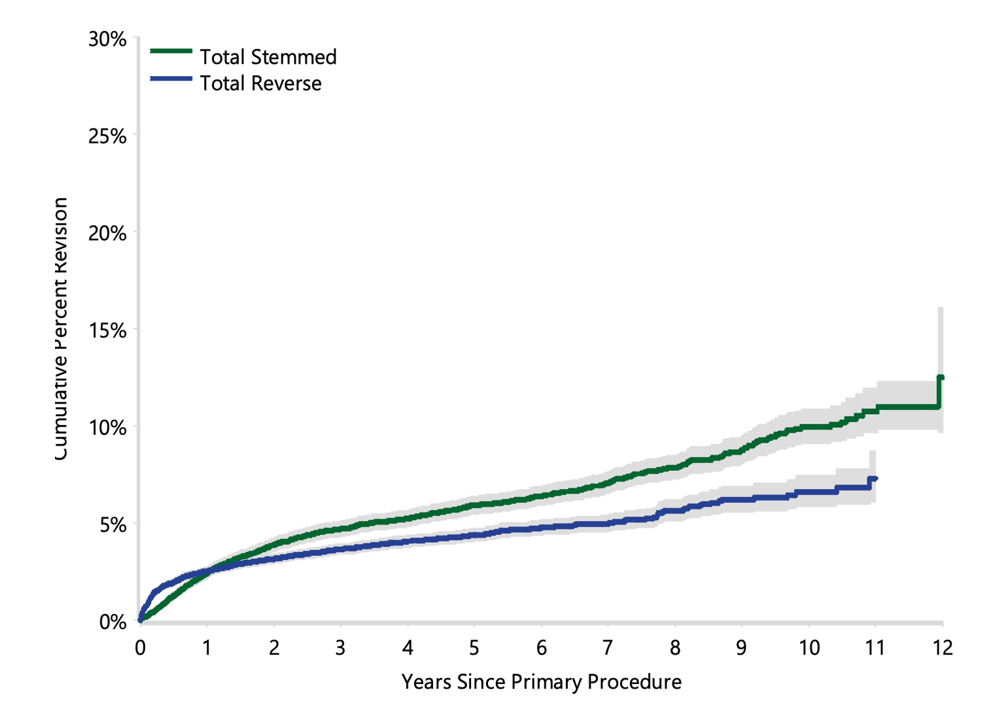 Patients should avoid having a Joint replacement until they are at least 65 years old or older.
Yes, (see below) in part this is true, but they still last well and are improving all the time. As the joints are lasting well beyond 15 years having a joint replacement is often a lifestyle decision.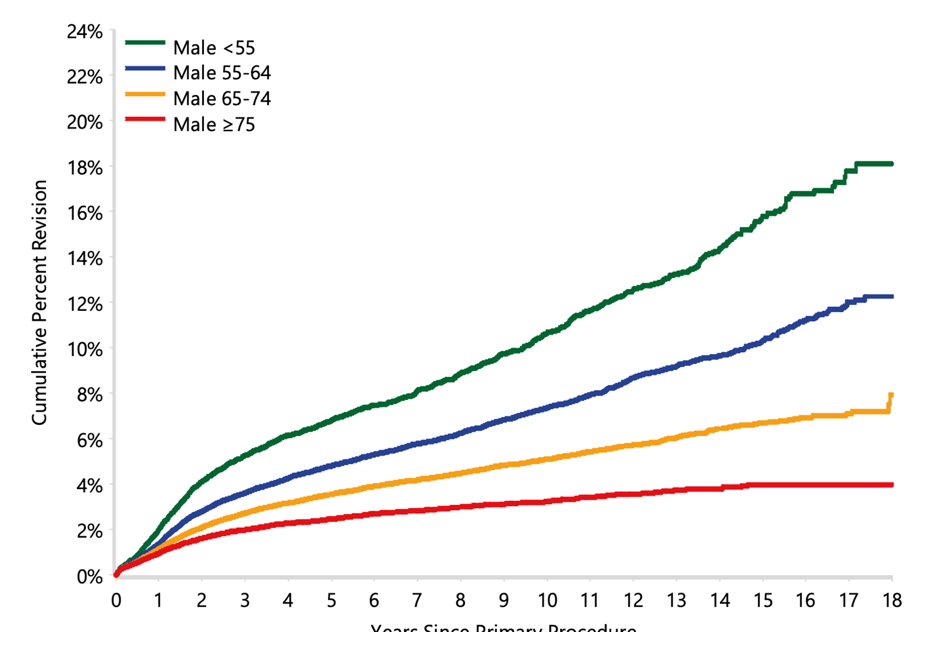 Does obesity impact on results?
Yes, especially for those morbidly obese patients.


Does preoperative medical state impact on results?
Yes, both in terms of outcome, complication rate and revision rates.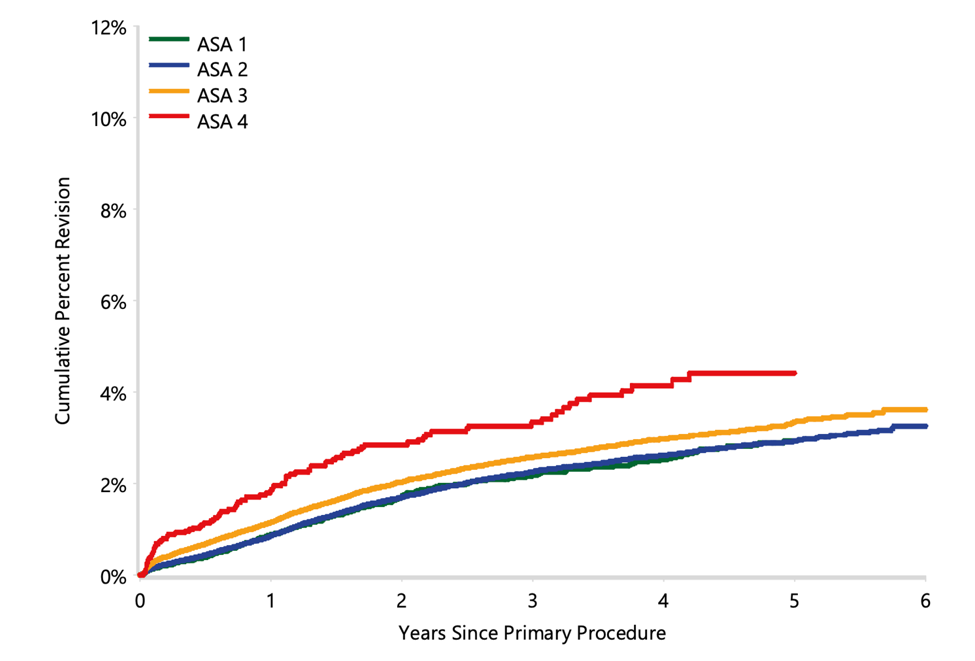 Does approach make any difference?
Not in terms of long-term survivorship (below), but there is evidence for reduced dislocation rates for anterior approaches and some, but inconclusive evidence that Anterior approaches result in an earlier return to activities.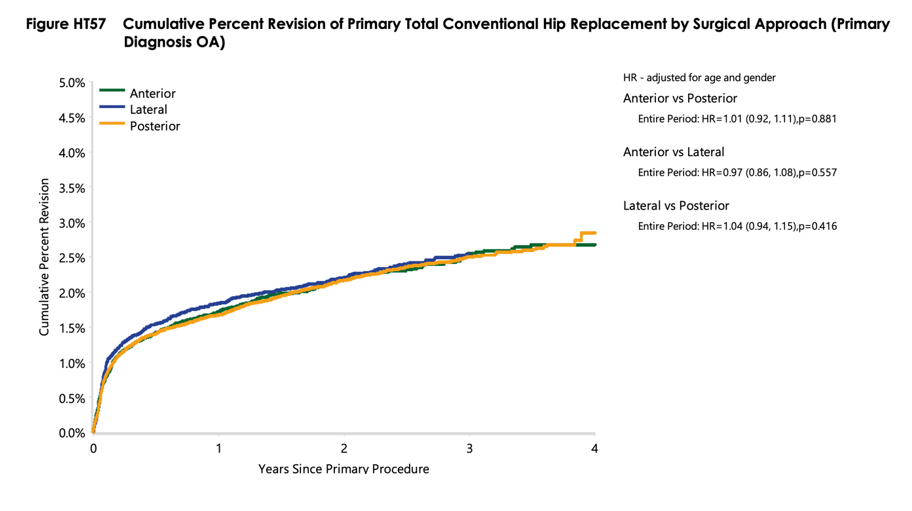 Is there a benefit in computer navigation?
Yes. There has been a lower rate of revision in patients under 65 in Total Knees, but this doesn't necessarily mean improved outcomes or satisfaction rates. In hips there has been a discernible improvement in leg length approximation and potentially less dislocations due to improved orientation of components.

Is there a benefit in robotics?
There is no evidence of improved survivorship or outcomes by using Robots. It does add time to a procedure but this may reduce with experience and new versions. It is expensive as a machine costs $1 million. Not unlike using computer navigation, the benefit of increased accuracy, leading to improved performance is not easy to quantify, despite our intuitive acceptance that it must be beneficial.

Is the skill and experience of the orthopaedic surgeon more important than the device or procedure?
Yes. There is little difference between prostheses, currently on the market, and abundant evidence both in studies and the registry that experience and yearly volume, (>100 cases in an AOANJRR review) lead to lower revision rates.

Does the number of cases performed by an institution have a bearing on results?
This is more difficult to determine, because of often increased complexity in high volume institutions, but US data suggests a minimum of 100 cases per year is desirable.

What are the risks of complication?
In a major US, Joint Replacement Centre, Pulido et al. when reviewing 13000 patients with an early discharge program. The rate of inpatient complications included major systemic causes of 4.91%, this included all cardiovascular, neurologic, pulmonary and gastrointestinal complications. Minor systemic complications were 3.4% and frequently did not require any major intervention. This included angina, hypotension, delirium and UTI.

In hospital mortality was 0.12%. The incidence of DVT was only 0.17%, but PE 1.82%. The later, is related to the early discharge program.
In a Japanese study from 2014, with 2000 patients on DVT prophylaxis following total joint surgery, and undergoing Ultrasound day 10 postop had a 24.3% incidence of DVT in TKA and 12.6% in THA. (These were not all clinically significant and many studies assessing presentation for DVT following early discharge appear to be extremely low.). The incidence of major bleeding within 28 days of surgery, was approximately 2%, which appears to closely reflect our local experience.

If you include all complications, the incidence is potentially is as high as 30%, but clinically significant complications rates are closer to 10%, and major complications less than 5%.
Postoperative infection rates depend on definition, and range from 0.5% to 2% in primary joint replacement. The AOANJRR is 0.5% for hip, knee and shoulder joint replacements.

What are the overall satisfaction rates?
The rate for THR is approaching 95%. The rate for TKR is 85%, and this is the sum of patients whom have a good or excellent outcome. Although the figure has not shown a substantial change for the last 2 decades, the age and expectations of patients has impacted on the rate.

Replacing the knee involves removing the whole knee
Well, no. It is a resurfacing procedure, but a lot of patients can not grasp this until they see a model.

You cannot do any sport with joint replacements
This is untrue, as current evidence shows that patients returning to non- contact or low impact activities, actually have a beneficial effect on performance.

You cannot kneel on a knee replacement
This is untrue. There is no data to suggest that kneeling contributes to an earlier failure. Certainly, kneeling may be too challenging for some patients due to strength, flexibility and local sensitivity.

Are there complications with Anaesthesia?
Spinal anaesthesia has been shown to be consistently more efficacious than general anaesthesia for lower limb surgery. Fortunately, severe complications such as, spinal cord damage, vertebral cord haematoma and epidural abscess are rare, but minor neurological complications are not infrequent and resolve quickly.

Is Physiotherapy beneficial after surgery?
There are few conclusive studies but the benefits of therapy may well be patient specific.

Is there a benefit in Inpatient Rehabilitation?
There is definitely a benefit, over home based or outpatient rehabilitation for some patients. Most patients will opt for inpatient care because of convenience. As so many aspects have changed in the care pathway over the last 20 years, it is difficult to attribute the relative benefit of individual modalities. There is no doubt that a hip or knee replacement done now will last longer, perform better and have a quicker recovery.
1. In Hospital Complications After Total Joint Arthroplasty. Luis Pulido, MD, Javad Parvizi, MD, Margaret Macgibeny, BS, Peter F. Sharkey, MD, James J. Purtill, MD, Richard H. Rothman, MD, PhD, and William J. Hozack, MD. The Journal of Arthroplasty Vol. 23 No. 6 Suppl. 1 2008